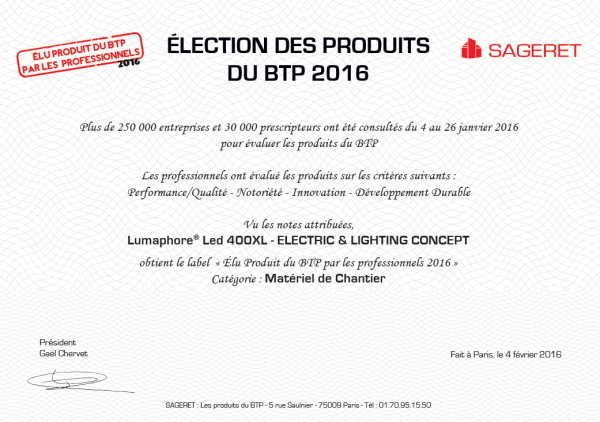 For the 4th consecutive year, SAGERET organizes the Election of the Construction Products.
This event is based on a new and objective approach: it is the professionals themselves who designate the must-have and most innovative construction products.
During 3 weeks, more than 250,000 companies and 30,000 specifiers were asked to discover the new products from manufacturers and to vote for the best performing products. A vast communication plan was put in place to mobilize the professional community by targeting companies and specifiers by trade, based on SAGERET's BTP file.
This year, 51 products have been distinguished and have obtained the label "Elected as a Building and Public Works Product by professionals" for products less than 2 years old, and the label "Recommended by Building and Public Works professionals" for products more than 2 years old.
We are very proud to confirm that our new LUMAPHORE® LED 400XL has been awarded the label "Elu Produit du BTP par les Professionnels".
Thank you all for your trust.